Blues bands often feature a diverse and odd collection of characters. But few bands boast a more curious assortment of collaborators than Buckle Blues. Their story is a uniquely American one, that features elements of race, fame, class, personal animosity and, of course, the blues.
The band began decades ago, with the childhood friendship of guitar player Ace Rangel and drummer Isaiah 'Steady' Greene. As teenagers, they played in a local blues band in their hometown of Buckle, Texas. Given their different backgrounds (Ace is white, Isaiah, black) and the backwards mentality of their rural Texas town, it shouldn't come as a shock that the thorny topic of race interfered with their friendship and nearly ripped it apart.
One night, after a gig, a few of the town's rednecks roughed up Isaiah. Ace, fearful of retribution, decided not to intervene. "The guilt weighed heavily on my head. I wouldn't have blamed Steady if he had never forgiven me."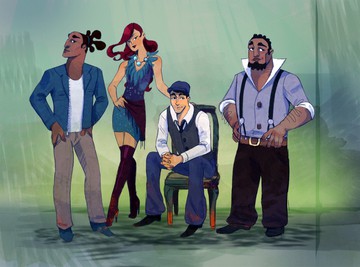 Years passed and the two predictably, lost touch. Ace wound up in southern California, living the sad life of a petty thief and drug addict. Curiously enough, one of his stints in a California drug rehabilitation center connected him with someone who would change his life – musically and personally.
Unless you've spent the last decade in a coma, you know the name Kari Hillborne. She's a star of a reality show and heiress to the Hillborne fashion empire. But when things went bad for her, she wound up in the same drug rehab center as Ace. Despite their very different backgrounds, the fell in love.
For Hillborne, the relationship gave her a new lease on life. Not only did she find herself in love for the first time, she also discovered a fondness for the blues. With Ace's guidance, she learned to sing. And when the pair decided to form a blues band, they knew it was time for Ace to return to Buckle, Texas.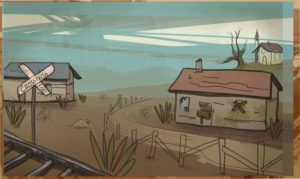 Their first night was nerve-wracking, but they not only survived it, they won over the tough crowd at a Buckle tavern. All they needed now was a few players to round out the band.
Enter Desmond Greene, the younger brother of Isaiah. A gifted young bass player himself, Desmond had heard his big brother's tales of growing up and nursing dreams of a musical career. "I knew there was an opportunity for my big brother to reconnect with his past. But I wasn't sure if he was ready for it," Desmond said. He hatched a plan to Isaiah and Ace to patch up their friendship and form a band. "It was risky."
But after many years, Isaiah was ready to forgive. He was also ready to play music again. The arrival of Ace and his famous girlfriend presented an opportunity to do both. "I was always told that to forgive was divine. Of course, that didn't make it easy. But the music helped. Soon as we got to playing, it was like old times all over."
The band's next step was moving to New York, where Desmond had won an opportunity to study at the famed Julliard music school. All of the pieces were falling in place. Or so it seemed.
Desmond soon found himself in the uneasy position of having to make a choice. Did he want to continue his studies at Julliard or did he want to keep playing with the band. "It was a tough choice. But in the end, I knew that playing in a blues band with my big brother and his friends was a once-in-a-lifetime opportunity – especially in New York.
Desmond stayed on with the band and foursome has never looked back. They signed with a record company and acquired representation from a major talent agency. But watching the band at work, it's clear that their chief motivation is neither money nor fame. Their love of the music in evident in every note they play. And this makes perfect sense. They've lived the blues enough – now it's time to play 'em.